The Friends of the Saint Paul
Public Library
Website | Email Marketing | Landing Page | Petition Campaign
The Friends of the Saint Paul Public Library (The Friends) is a nonprofit entity committed to supporting the longevity of the public library in Saint Paul. Over the years, they had built a strong donor base, but didn't have an audience identified to be primarily advocates for their cause. They knew that there were plenty of people in Saint Paul and surrounding who would get behind their mission, but they weren't sure how to reach them.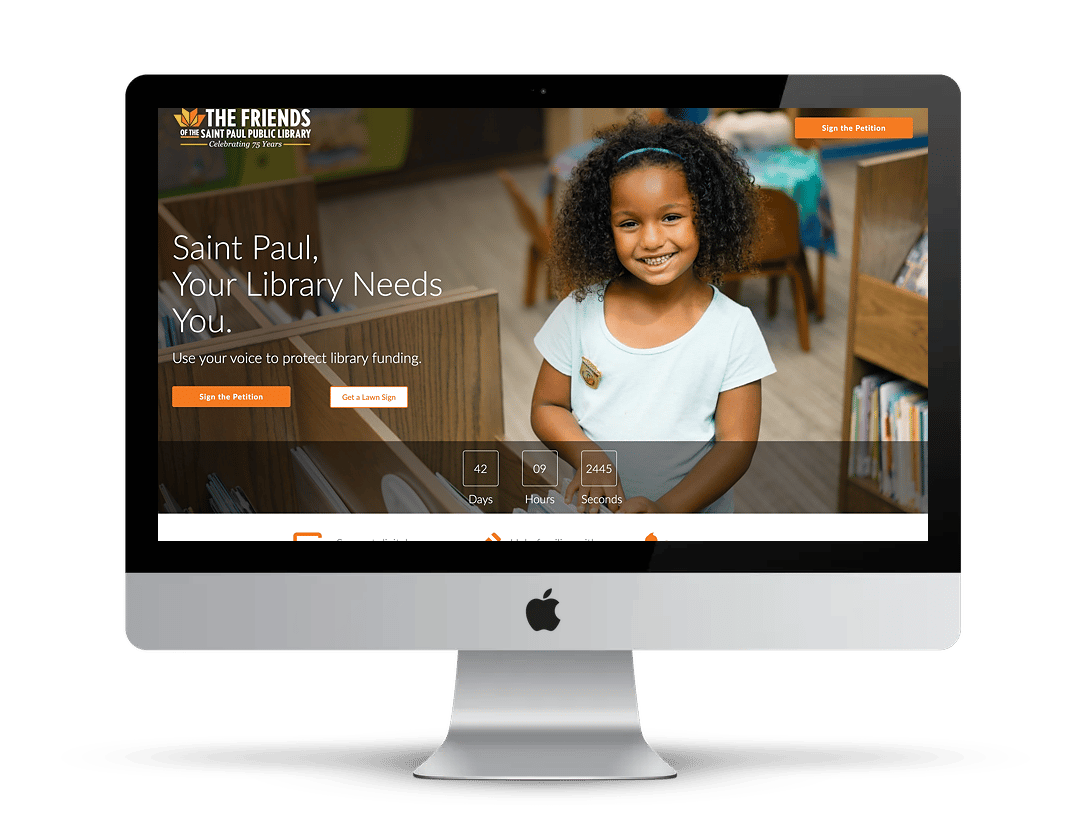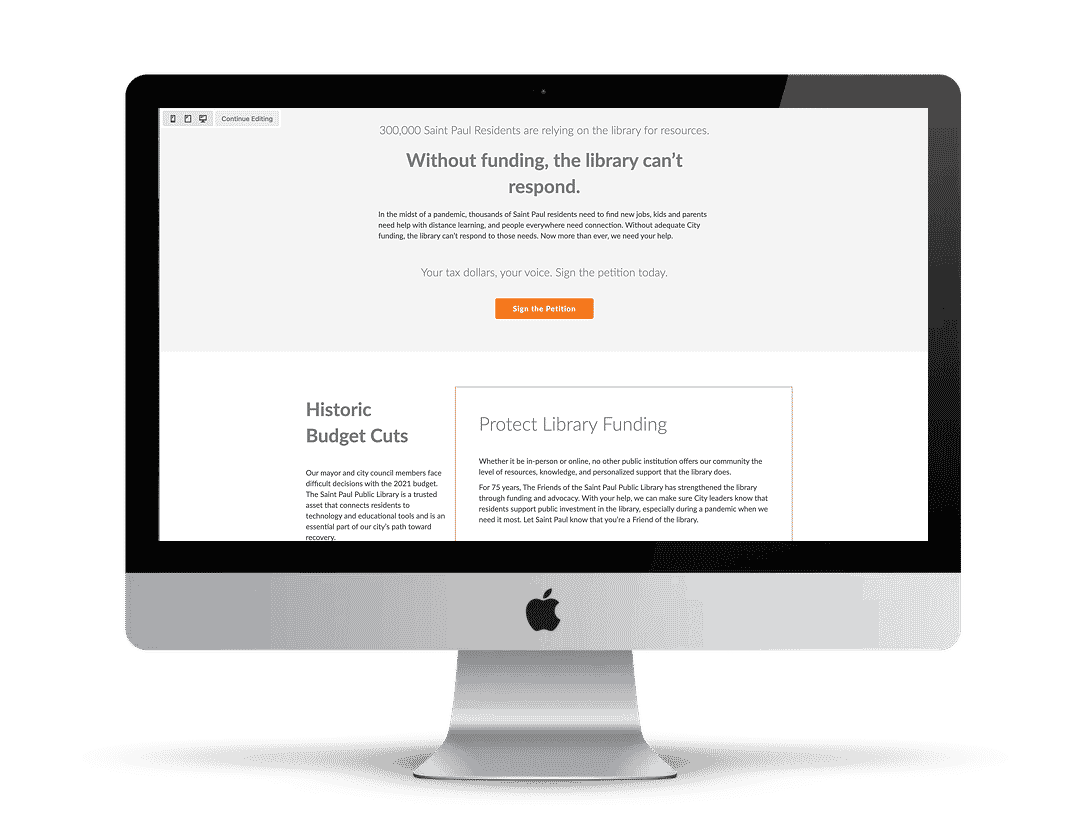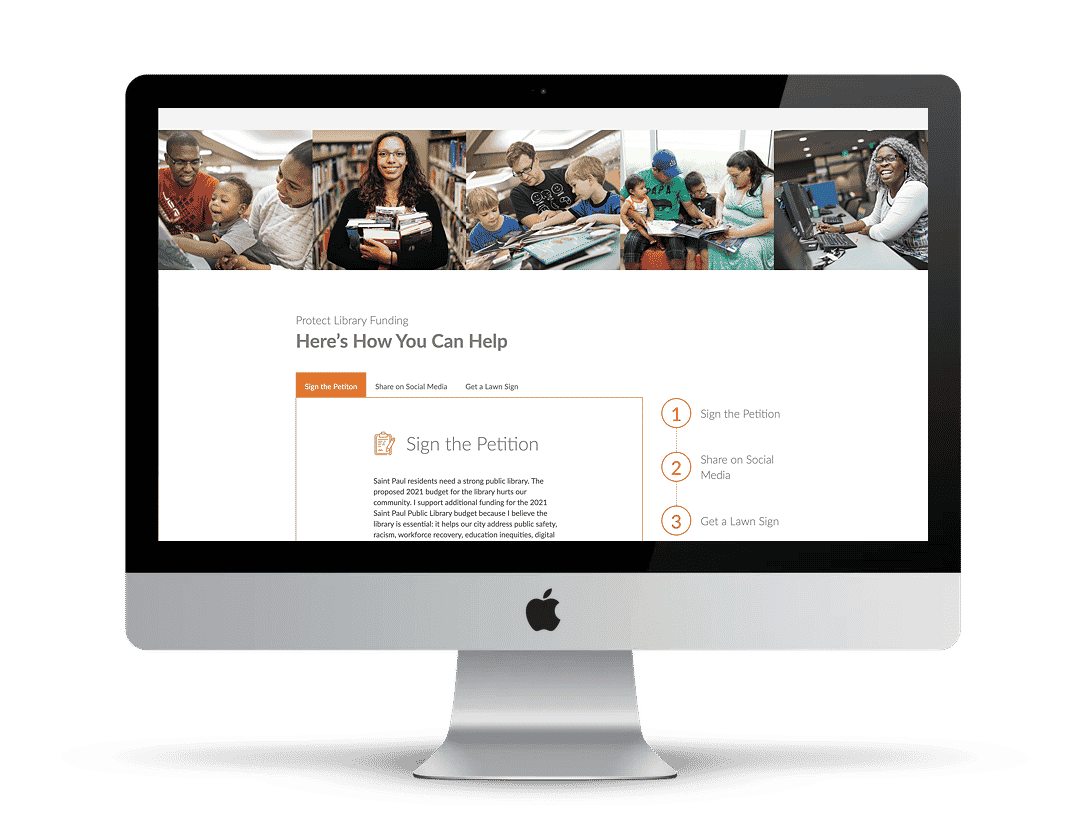 The Friends were missing the opportunity to speak to people who wanted to advocate and take action for their cause.
We Developed the Theme:
Protect Library Funding
We needed a theme that was short and clear and would resonate with the community we were targeting. We tried a lot of different messaging strategies and ultimately landed on a more bold approach. 
We didn't want to be subtle
But we also didn't want to sever relationships with important government officials who support the library cause. At the end of the day, we knew the library was in danger of budget cuts so we took a stronger approach.
"Sign the petition today to protect library funding."
Build a Messaging Strategy
for Each Channel
Each channel is a little different based on how much the targeted audience knows about The Friends. We created a targeted strategy for each channel to clearly articulate what we needed a why.
Email

For example, when sending to our email database, we knew that those individuals were already familiar with The Friends and who we were, so we used a more narrative approach to connect at a heart level with those individuals.

Social Media

When advertising on social media to a brand new audience, we used high contrast, text-focused messages so that it was crystal clear in one statement why we needed them to sign. There wasn't as much room for context and we needed to give a new audience as much clarity in as few words as possible to drive action.
Create Visuals
That resonate
The good news was we had a ton of beautiful photos to work with. The Friends do a great job prioritizing documenting their work and who they serve. They had a variety of images that showed all the different kinds of people they serve. From kids participating in storytime to adults working on their resumes, we had images of the spectrum of their work. We stylized the images in a way where we could develop a consistent look and feel for the campaign without sacrificing the style of their brand.
We were blown away
By the results of this campaign
We had an overwhelming response to the petition signatures, beating our goal by 176%. We also distributed near 1000 lawn signs that were put up all over the city.
176%

of goal for petition signatures.

68%

of website traffic was for this campaign
Overall we learned that there is a hunger for this type of advocacy and the community was ready to respond. We had people who wanted to join the cause, we just needed to reach them and invite them to how they can help. This campaign had a very small media budget, but was able to make a big splash in protecting the library. Because of the petition signatures and lawn signs, The Friends were able to use that as a strong case for why city councilmembers should reconsider the library budget, which was the ultimate goal.
Want to see more
of what we have done with The Friends?