Website Design | Storybrand Brandscript | SEO | E-commerce | Marketing Stragey

Moffatt Products is an innovator in flex arm technology. Their devices are crucial to industries such as medical, industrial, automotive, and law enforcement. Unfortunately, their website didn't match their innovative spirit. It was clunky, hard to navigate, and didn't showcase their work. This was especially evident in their e-commerce and SEO results. 
Moffatt had already been through four website designs and were starting to feel like they would never get the website they dreamed of.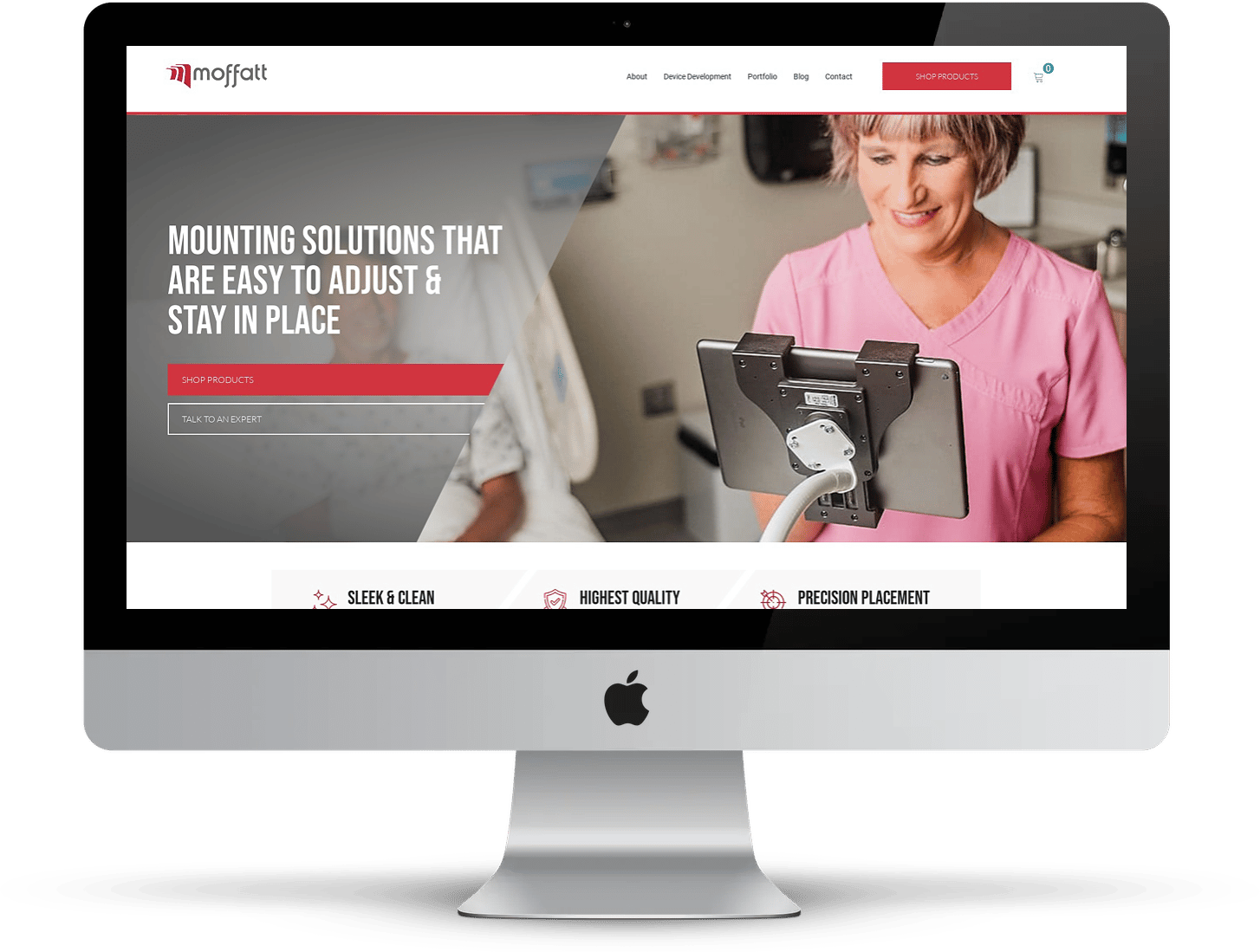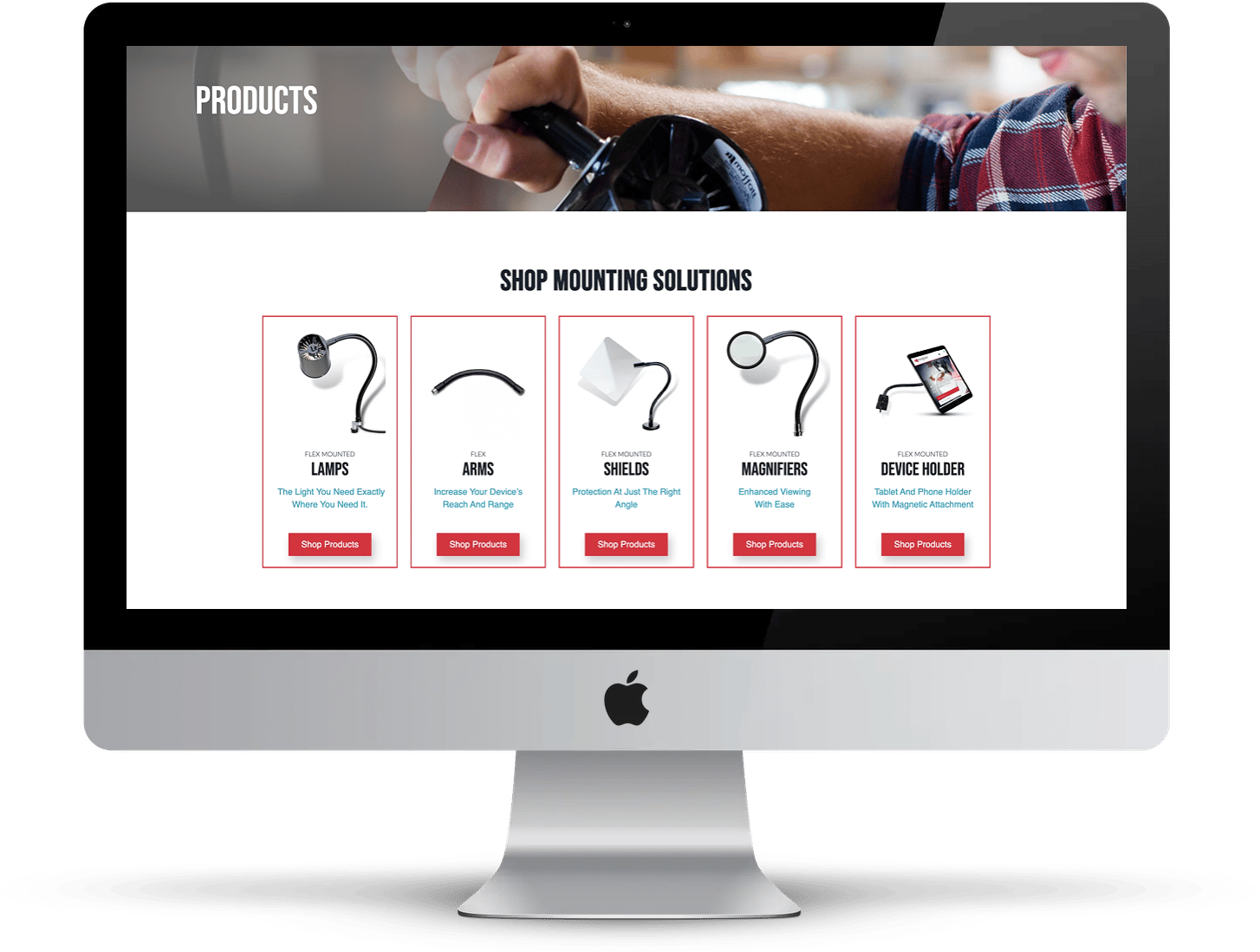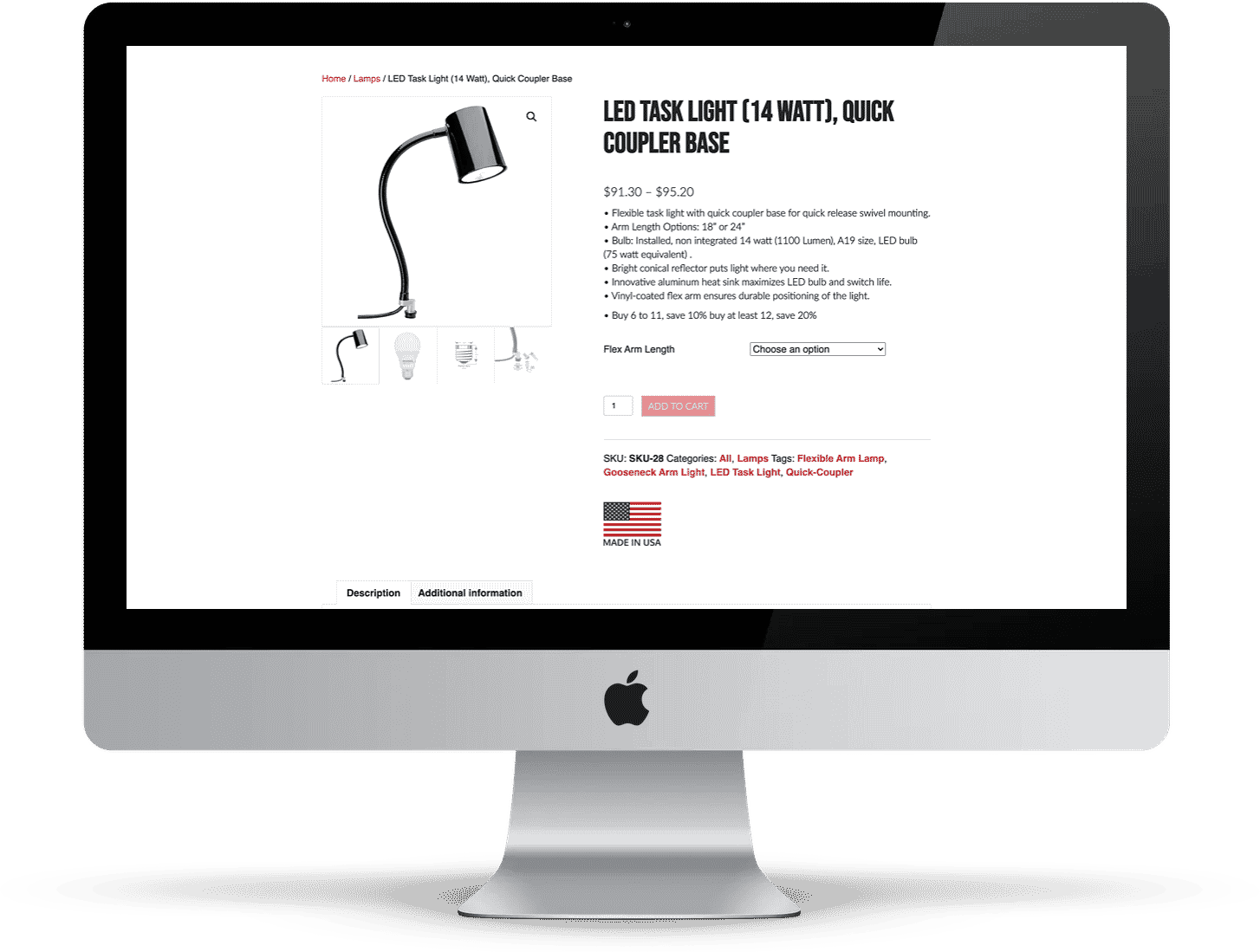 Even though Moffatt Products was an established company with over fifty years in the industry, its online presence was holding the company back. They had no way to generate leads online, and no clear marketing strategy. Their website didn't highlight Moffatt's design chops and hurt their credibility. They were coming in second to their competitors in SEO ranking. Their e-commerce was stagnant. E-commerce was a biggie, especially as it was important to Moffatt that engineers and product designers be able to easily navigate the Moffatt website to find what they need. 
They had done some Storybrand training, and they wanted an agency who really understood Storybrand philosophy, to steer their website design and marketing strategy. That's when they came to Banker Creative.  
"This is our fourth shot at the website [design], and the results this time are far beyond our previous work.  It's obvious you have a clear, solid process for development.  But it's also obvious you are great listeners because the work keeps coming back so close to the bullseye every time.  It's been amazing, which has in turn made it so fun." 
~Dave Moffatt, President 
Moffatt Products was losing ground to competitors who offered an inferior product.
"We were constantly overpaying for decent, but not great results with our website [design]. Banker Creative took the time to understand our needs and cast a compelling vision for how to not just create a nice website, but frame a clear marketing strategy." 
~Mark Moffatt, General Manager 
We took the authenticity and innovation of Moffatt's brand and, using Storybrand, crafted it into a website design that proves they are best in the business. 
Moffatt was a great client to work with. They were knowledgeable, passionate, eager to learn, and understood that their website design needed to reflect their values better. Together we came up with a comprehensive marketing strategy using Storybrand to revamp their website design, enhance their e-commerce, start capturing leads, and build up their SEO ranking. 
First, we needed to engage Storybrand to clarify their message and produce a more professional website design. 
What we started with was
"Bring Flexibility to Life."
Were they a physical therapy business? A yoga studio? A manufacturing company? Did they make robots? It can be tempting to create a tagline that is broad because you want to encompass everything your business does. The problem is that broad can oftentimes mean vague. For Moffatt, we needed to employ Storybrand to communicate that they were the best in the industry, not only with their messaging, but also with their design and content. 
Using Storybrand, we crafted the new tagline,
"Mounting Solutions that are Easy to Adjust and Stay in Place."
That gives you more of a picture of what they do, doesn't it? Check out the before and after photos below to see more of what we did with the home page.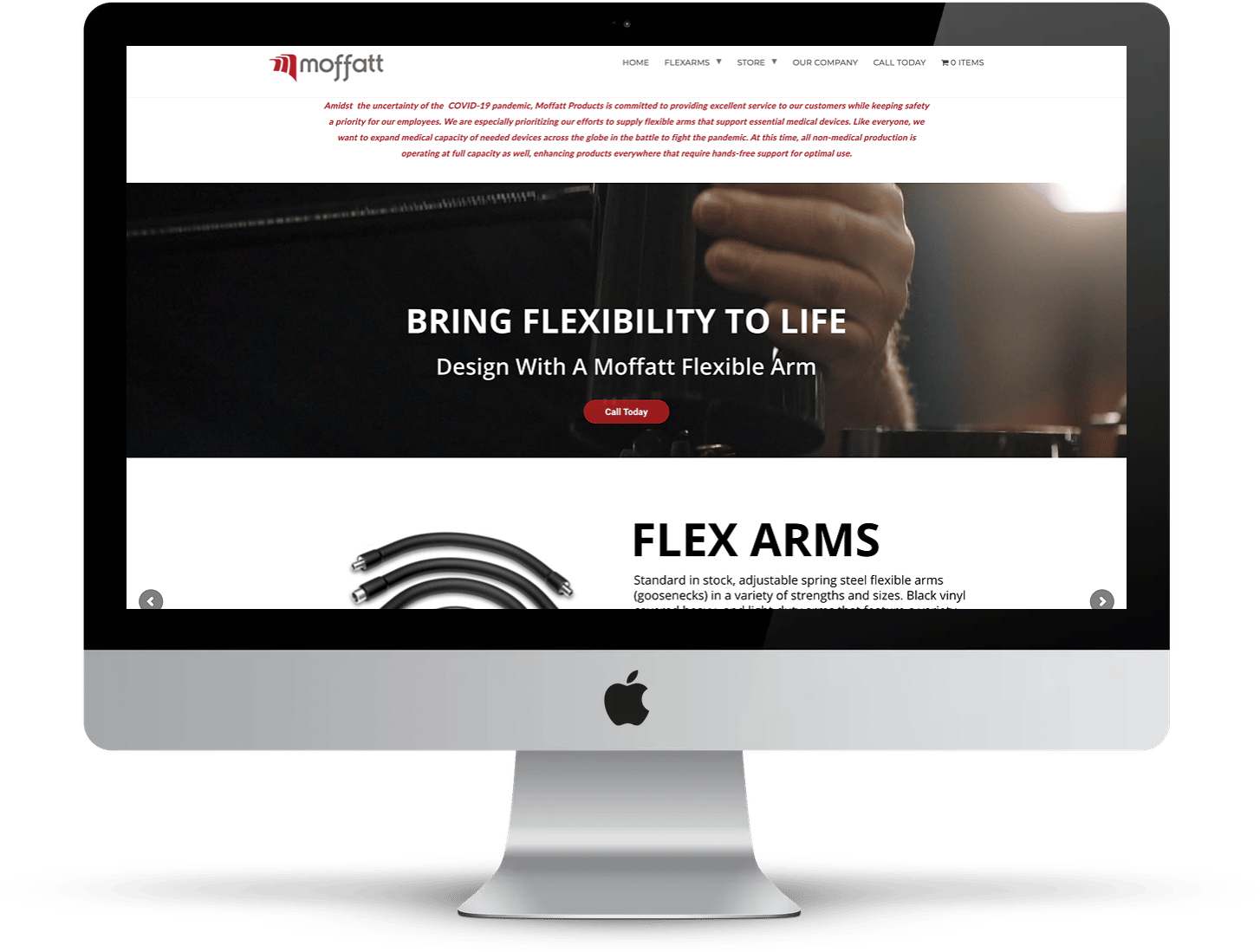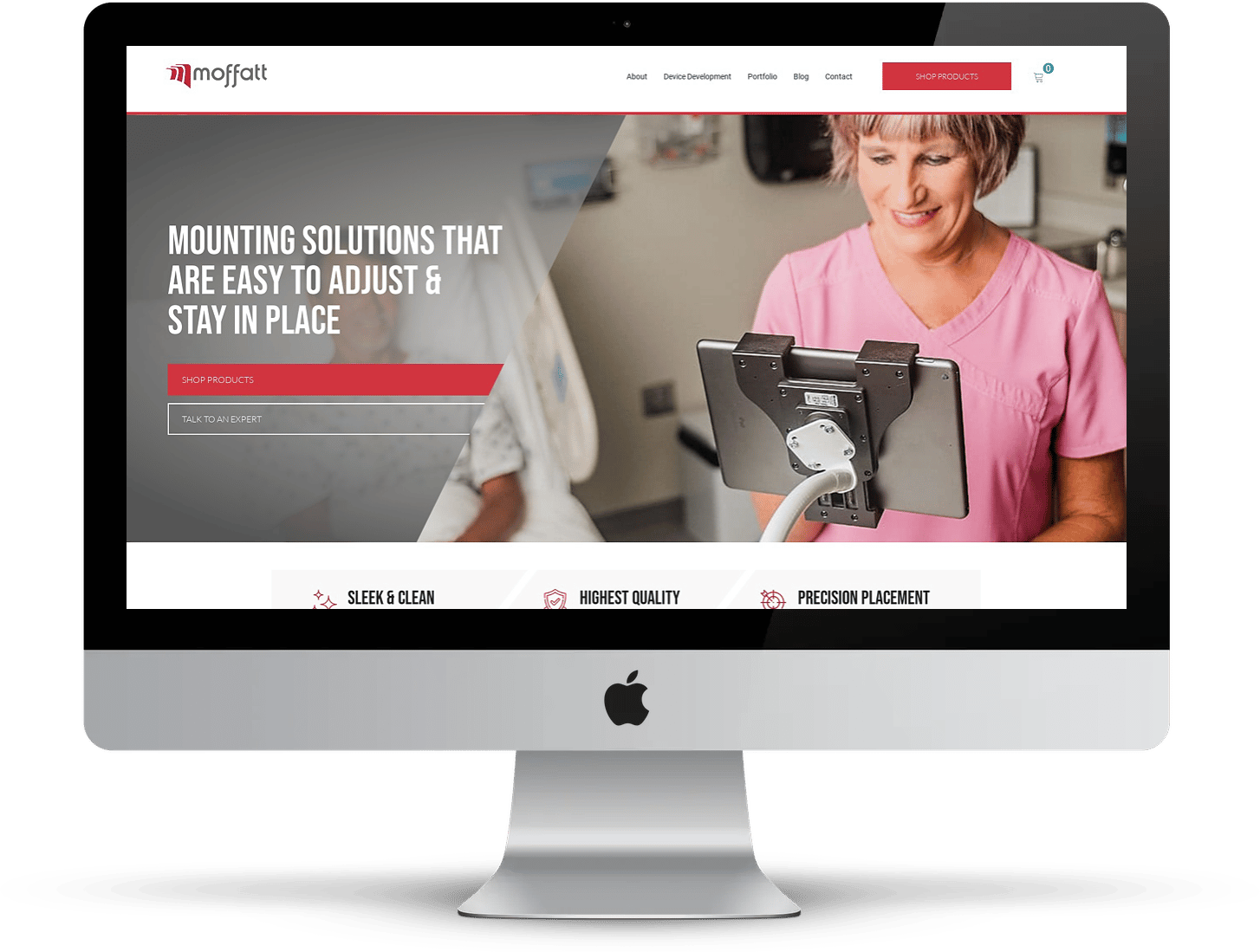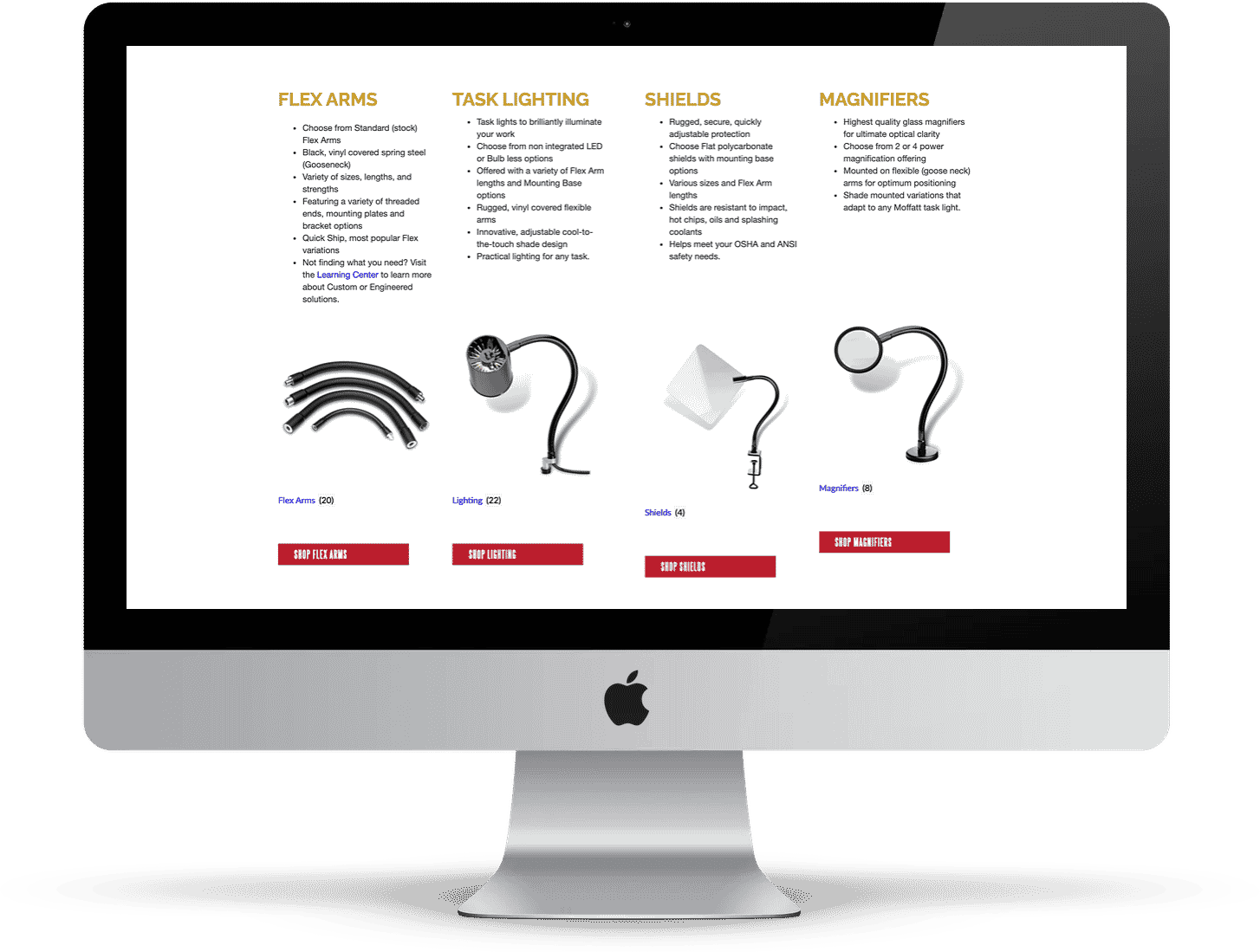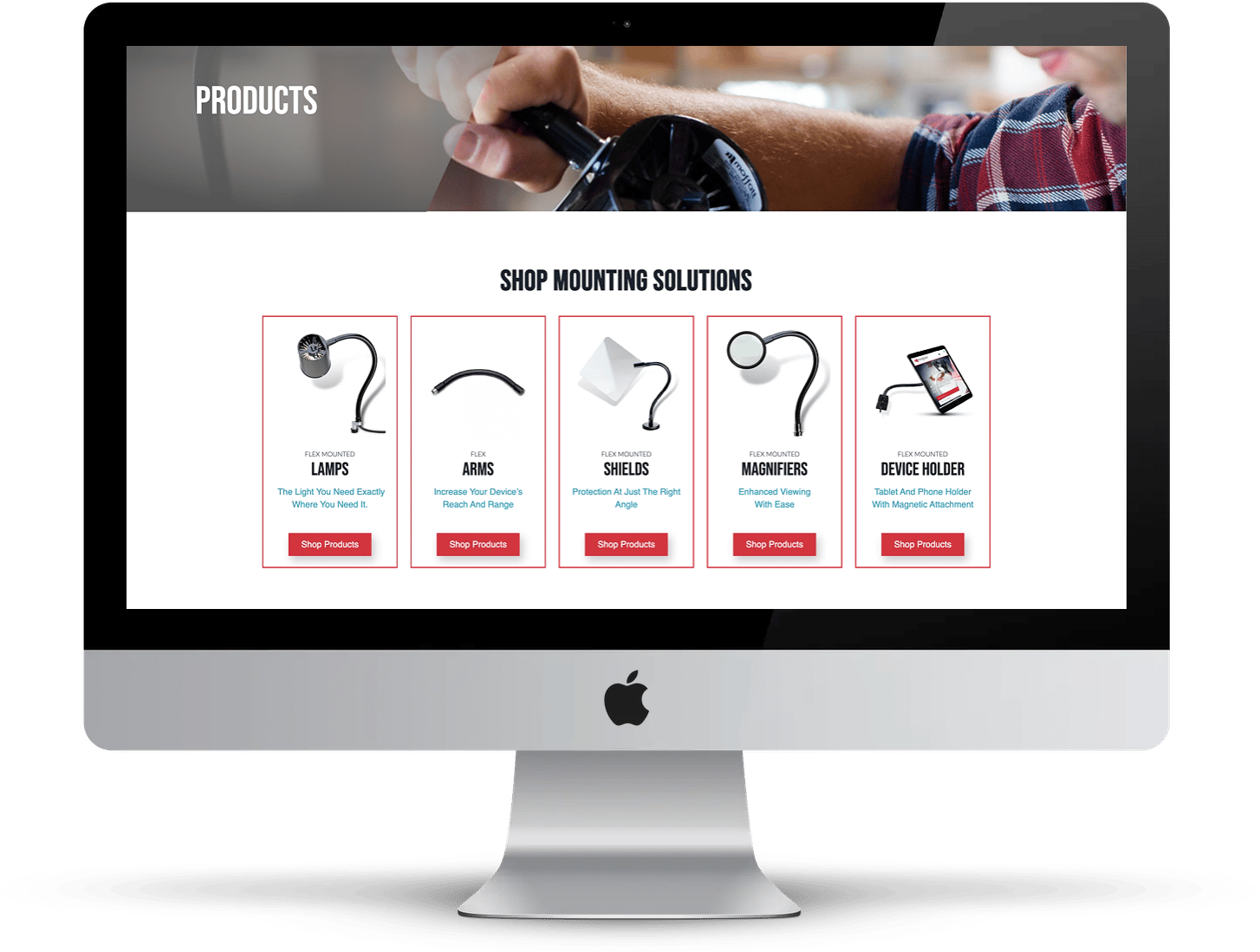 "More than other vendors we've worked with, Banker Creative has been far more focused on understanding our problems and challenges and tailoring the plan to meet those needs. Past vendors struggled to guide us because they didn't have a plan or didn't know how to anticipate our needs. It gave us confidence we were working with a 5-star, not a 4-star vendor." 
~Mark Moffatt, General Manager 
2nd
we needed to create a way for them to increase lead generation on their website
Did we want a system that worked 24/7 automatically without them having to do anything? That's exactly what we wanted. It's great for a website design to build SEO ranking and show your customer how you solve their problem, but if you aren't able to communicate with them after they leave the website, it's tough to nurture users towards a sale. We boosted our marketing strategy by creating an ebook, in collaboration with Moffatt, targeted at engineer's designing products called "The Engineer's Checklist for Your Device's Flex Arm." When someone downloads the ebook, they sign up for an email automation that gives them free advice and builds trust to eventually ask for the sale.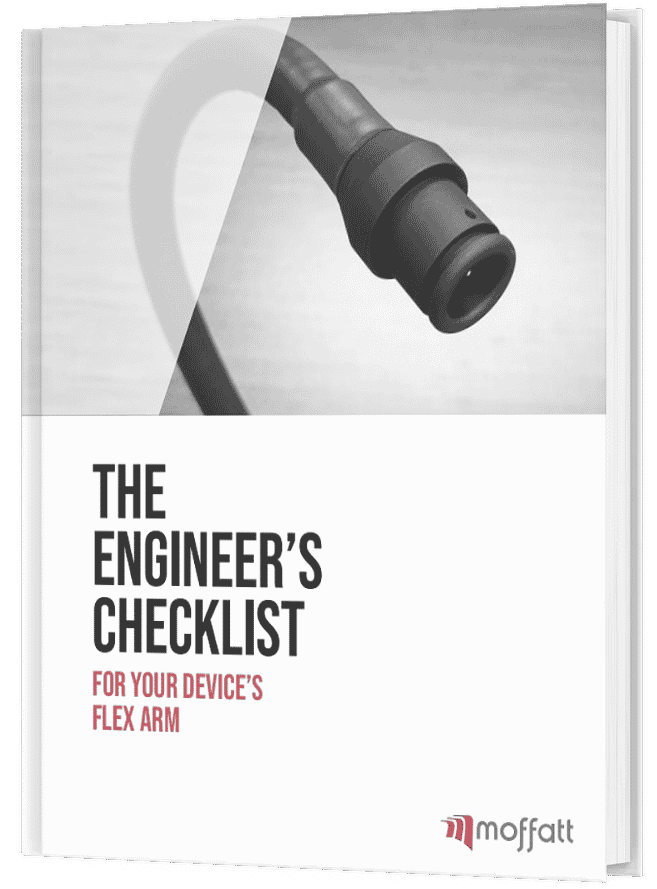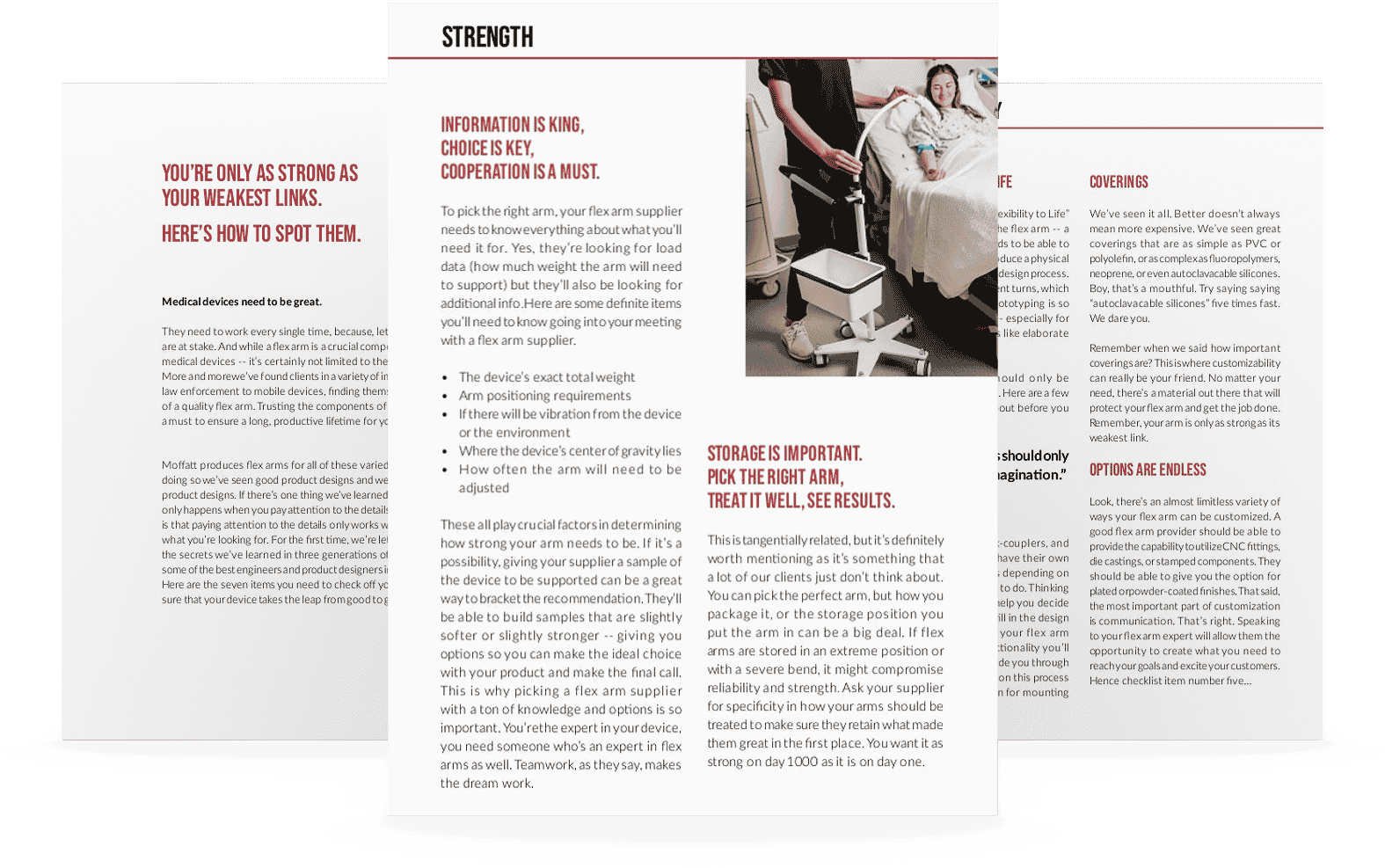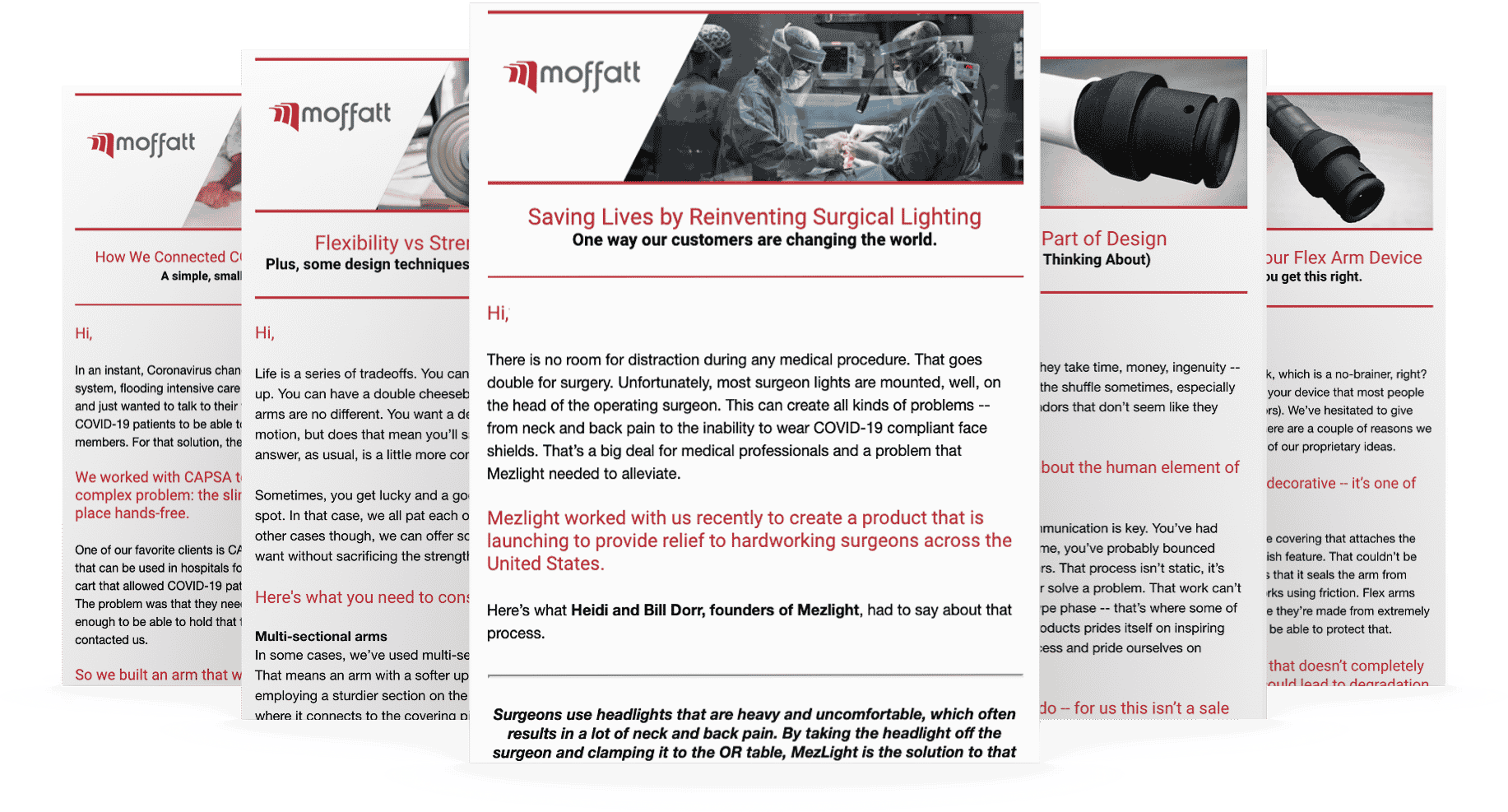 We bolstered Moffatt's lead generation
bringing in $5k in e-commerce revenue in a couple of months.
3rd
we have been working on for Moffatt is to improve their SEO ranking
Despite being the highest quality flex arm in their industry, when we conducted a website audit, we found that nearly 70 pages had low word count and 80+ pages had duplicate meta descriptions, which hurts SEO ranking. In addition, the lead time was slow on mobile, all of which was pulling down their Google ranking.  
The solution to this is consistent and strategic focus on website content over time. We've been optimizing the photography strategy on the website, improving search results, and keeping content fresh to build up SEO ranking among certain keywords that they were not previously ranking for. This is a long-term marketing strategy for Moffatt to become the most prominent flex arm company on the Internet, but even in just the last couple of months, we've seen some drastic improvements. 
"Banker Creative made themselves so accessible via video calls and were generous with the team's talent and time. They not only have a capable and friendly staff but are also willing to add value every step of the way based on what we needed most. I never once felt like we overpaid for the results we've gotten from Banker Creative. On the contrary, I think it could help customers be confident that the investment is worth it." 
~Mark Moffatt, General Manager