Banker Creative Website

Pricing
Many agencies are afraid to reveal their price points.
We believe transparency is the foundation of trust.
How Much Does a Storybrand Website Cost?
Over-Simplified Answer: $14k* $12k
Deliverables: BrandScript - Wireframe - Design - Build out - Revisions - Launch - Project Management - Agency Plugins
Your Team: StoryBrand Guide, Project Manager, Designer, WordPress Developer
Site Size: 10 pages | Working Hours: 105 | Timeline: 11-16 weeks | Standard Agency Rate: $125/hr
Here's the more in-depth answer: 90% of marketing agencies don't address pricing at all on their websites, and every agency offers somewhat different strategies and services, so it can be difficult to compare one agency to another.
In most cases, price should not be the primary factor in determining who you hire (see how to find a right-fit marketer). Marketing agencies are not interchangeable. It's important to find a marketing partner that has the right strategy for your business and has the best chance of generating real ROI.
We are not the cheapest agency in the world, but we have chosen to be intentionally small and keep our overhead low by being a fully remote team, so we are able to serve small and mid-sized companies.
See how we stack up against other agencies, and here is a longer article about how much a website costs.
*Why is $14k crossed out?
We have 105hrs of time allotted for a full, 10-page website. If we calculated directly at our agency rate of $125/hr for creative work and $300 for Strategy and Coaching, that would put us at $14k. We are taking a risk, betting on our team's efficiency in order to get you a better deal.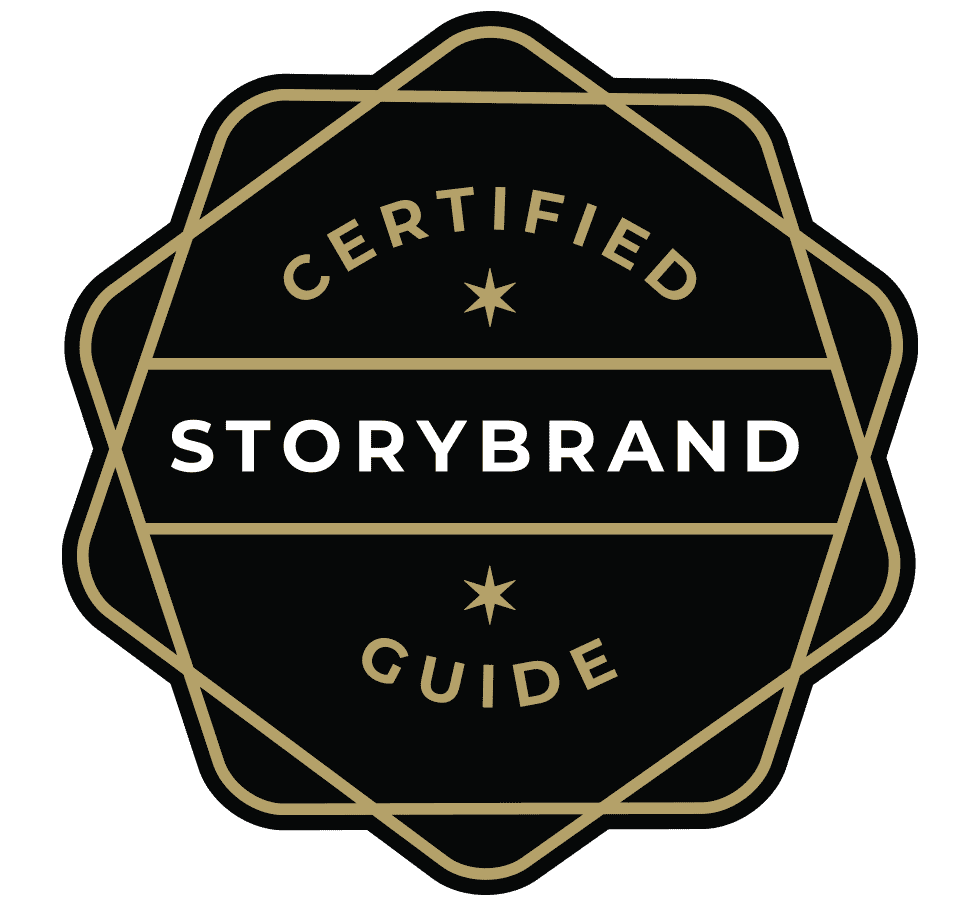 01. Off the Shelf Website
Having built over 130 StoryBrand websites over the course of 5 years we have been able to create pre-scoped plans for websites under 10-pages.
What's Included:
Site Map
StoryBrand BrandScript
Wireframes and Copywriting
Stock Photos
Design & Development
Basic On-Site SEO
Site Speed, Analytics & Security
WordPress Training
Cost: $12k
This is a good option if you:
Have a new business with no website yet
Need a redesign for a website with less than 10 pages (not including blog posts).
Most websites require custom scope and planning. An audit of your current website and a blueprint report with recommendations and pricing for a full website redesign.
What's Included:
Everything from the "Off the Shelf" plan +
Marketing Strategy
Custom Functionality
Additional Pages as Needed
Competitor Website Analysis
Lead Source Recommendations (premium)
Content Strategy Recommendations (premium)
SEO Audit and Recommendations (premium)
Website Blueprint: $2.5k
Website: $10k - $30k
This is a good option if your:
Current website has more than 10 pages (not including blog posts)
Website relies on SEO for current traffic
1. We Help You Plan Your Website
Choose one of our off-the-shelf options or work with us to create a custom website project plan.
2. We Write Words That Sell
Work with a hand-picked Certified Storybrand Guide to hone your Brandscript, develop the messaging, and write your new website.
3. We Design & Build It Beautifully
Our in-house team will walk you through the design and development phases and ensure a smooth process to create a website that elevates your brand and amplifies your message. Our clients and partners are extremely very happy with our website. I would highly recommend them for anyone who would like to build a professional website. We will certainly use them for future work.
Abdi Ali
Center for Multicultural Mediation
Website Support and Misc.
Website Hosting & Support
Our website support packages start at $250/month and include web hosting, daily backups, SSL certificate, plugin/theme updates, security monitoring, and 6 flexible support hours per year.
Website hosting and support are optional. We do not require you to continue hosting with us after we build your site.
We are a website design & development shop. We take on website "projects" where we write, design, and build websites, and we offer ongoing website "support". We don't do ongoing SEO, PPC. social media management, or paid social campaigns, but many of the Storybrand Guides that we work with offer those services. We can also give you a referral.
Some of the other services/deliverables that we do offer are:
Email sales sequence writing. Starting at $2500
eBook, proposal, and pitch deck writing and design. Starting at $2500
Logo and brand identity - Starting at $5000
Most of our work is project-based and priced based on value and deliverables not on hourly rates. However, when we don't believe we can accurately predict the scope or complexity of a project we may bill hourly. These rates also factor into how we scope and price larger projects.
Creative & Implementation
$125/hr
Design, copywriting, video, website updates, layout, and development, technical support for WordPress, plugins, or integrations, and project management.
Strategy & Coaching
$300/hr
Storybrand work, marketing consulting, campaign planning, analytics, reporting
Pricing Sheet & Service Offerings
We're not the cheapest agency out there (but we're also not the most expensive). We are always transparent about our pricing, so you'll never get billed for something you weren't expecting.